Koloa Vegetarian Scene
2829 Ala Kalanikaumaka
Koloa, Hawaii
(808) 742-2323
Explore Living Foods Gourmet Market and Cafe and discover the freshest seasonal specials and local favorites, as well as handpicked imports from around the world.  Lead by the vision and passion of new owners Jeff Sacchini and Howard Warner, Living Foods Gourmet Market and Cafe is committed to quality, community, and the celebration of Kauai grown and made products.
Our gourmet market offers over 3,000 items including the largest selection of organic produce on the island.  We feature imports including pastas, sauces, oils, vinegars, salts and seasonings, as well as over seventy local andexotic cheeses.  We stock a number of gluten free items from snacks, fresh baked breads, beers and more.
Aloha Aina Juice Bar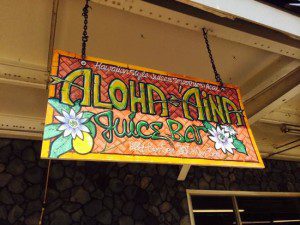 Aloha Aina Juice Bar FB Page
Kukuiula Market 2827 C Poipu Rd., Koloa, HI 96756
Opens Mon-Sat 8am-5pm, Sun 10am-3pm
Kukuiula Market
2827 Poipu Rd
Koloa, Hawaii
Beach House Restaurant FB Page
5022 Lawai Rd
Koloa, Hawaii
(808) 742-1424
Our philosophy at the Beach House is simple – take some good old-fashioned Hawaiian hospitality, blend it with a Pacific Rim food experience and add an outstanding view to deliver an experience that delights all the senses.
Owners Roy Dunn and Mike Hooks work closely with Executive Chef Marshall Blanchard and General Manager Tim Obert to ensure that their vision for The Beach House is reflected in every aspect of the restaurant. Our talented kitchen team strives to make the most of local ingredients.
Our fish is sourced directly from Island fisherman, and our beef and coffee come from neighboring ranches. We incorporate local fruits and vegetables whenever possible, and delight in being able to find new and innovative ways to use the resources that surround us from artisan bakers to folk artists.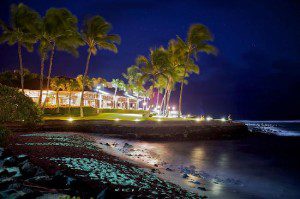 We invite you to join us and experience the very best of Hawaii
LUNCH from 11:00am to 3:00pm
LIGHT FARE available from 3:00pm to 5:30pm
DINNER
5:30pm to 10:00pm September 17 to March 10
6:00pm to 10:00pm March 11 through September 16
Our Bar & Lounge serves pupus and drinks daily from 11:00am to 10:00pm

Tidepools FB Page
Dinner and Lounge:  5:30 – 10:00pm
1571 Poipu Road, Koloa, Hawaii, USA, 96756
808-240-6456
Embrace the tempting combination of contemporary Hawaiian cuisine served in a unique Hawaiian setting. Thatched-roof bungalows float above a koi-filled lagoon at the base of a waterfall to create romantic ambiance. Inspired by local ingredients and the rich culinary traditions of Hawaii, Tidepools will dazzle you with the freshest of fish and steak prepared with unique island flair.