Biodynamic Resource Hub
Organization & Association Listings
The Biodynamic Association (BDA) is a nonprofit association of individuals, groups, and organizations who are committed to rethinking agriculture through healthy food, healthy soil, and healthy farms. Founded in 1938, the BDA is considered to be the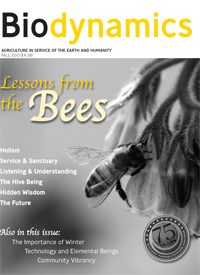 oldest sustainable agriculture organization in North America.
Biodynamics has a long history (since 1941) as one of the preeminent publications on biodynamic farming and gardening in the world. A benefit of membership in the Biodynamic Association, each issue provides a thoughtful collection of articles centered on a theme such as composting, pollinators, hortculture, or GMOs.
Demeter Association, Inc. is the United States' representative of Demeter International. We are a not-for-profitincorporated in 1985 with the mission to enable people to farm successfully, in accordance with Biodynamic® practices and principles. Demeter's vision is to heal the planet through agriculture.
The DBTA is a membership organization for Demeter Certified Biodynamic® farms, vineyards, wineries, dairies, food processors, traders and distributors, as well as interested consumers. By joining, you will be part of a movement that is world renowned for setting the highest standards for agriculture and healthful, vital, pure foods.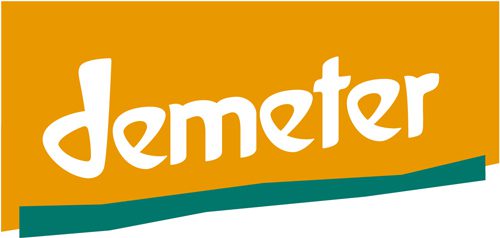 Demeter is the brand for products from Biodynamic Agriculture. Only strictly controlled and contractually bound partners are permitted to use the Brand. A comprehensive verification process insures strict compliance with the International Demeter Production and Processing Standards, as well as applicable organic regulations in the various countries; without a gap, through every step, from agricultural production to processing and final product packaging. The holistic Demeter requirements exceed government mandated regulations. Not only do they exclude the use of synthetic fertilisers and chemical plant protection agents in agricultural crop production, or artificial additives during processing, but also require very specific measures to strengthen the life processes in soil and foodstuffs. Demeter farmers and processors actively contribute toward the shaping of a future worth living for, creating healthy foods of distinctive tastes, truly "Foods with Character". Demeter – the Brand you can trust in.

We are a member-run organization that aims to promote the biodynamic approach to farming and gardening.
Through BDANC we have the opportunity to:
gather a dynamic interchange of people from many arenas of biodynamics
spread our collective knowledge, learn from each other and grow together through study
get reports of activities in the larger biodynamic and farming community
learn about the preps by making them together
ensure availability of the preps to the community
experience other farms and gardens
renew our spiritual intentions and our commitment to each other
Biodynamic Association of Northern California FB Page
We are a small non-profit seed company that sells 100% open-pollinated vegetable, herb and flower seeds. They are all grown using biodynamic and organic practices both in our seed garden and by other farmers and gardeners who use biodynamic methods. All our seed is non-gmo, non-hybrid, never treated, and grown without the use of chemical inputs. We are part of a Camphill Village in Copake, NY, a life-sharing community which includes people with developmental disabilities. People of all abilities help with growing, cleaning and packing our seeds. Another aspect of our mission is encouraging and educating people who want to grow and save open-pollinated vegetable, herb and flower seeds.
We have been supporting gardeners and farmers in their practice of biodynamics since 1985. We provide:

Biodynamic Preparations of the highest quality for plants, fields and compost.
Educational Workshops and Consultation to gardeners and farmers.
Books on biodynamics and related topics.
Applied Biodynamics, our quarterly newsletter.
E-news updates to keep you up-to-date on biodynamic happenings.
Research to support the practice of biodynamics.
Biodynamics takes you beyond organics and offers you a roadmap to enhance the vitality of your farm or garden. Biodynamic preparations and indications for planting, cultivating and harvesting allow you to work with the life forces that increase the physical health of your soil, plants and animals.
Josephine Porter Institute FB Page
Biodynamics Hawai'i:
Patrick Moser (individual contact), 845 Pe'ahi Road, Ha'iku, HI 96708; (808) 572-1766; P
email patsbdfarm@aol.com